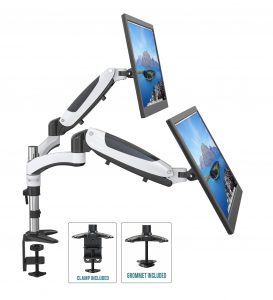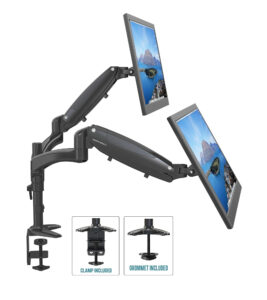 Ultra Strong Double Arm Monitor Stand
Our desk monitor mount is made from reinforced premium aluminum and steel that prevents the arms from sagging and moving out of position. With 2 gas powered arms that are extremely durable and can each hold two 15-32″ screens weighing up to 8kg .
Customize your Working Experience
Your brand new dual monitor stand is highly flexible and can rotate a full 360°. It can extend toward you up to 22.4″ and be height adjusted up to 22.6″. The 2 screens can be placed in either landscape or portrait position, placed side by side or stacked one on top of the other for your viewing pleasure
Improves Productivity & Focus
Our monitor arm stand can help you to free up space on your desk, giving you a clearer, more focused mind. A clear workspace leads to a clear mind and as a result you will get more work done as well as improve the quality of your work overall
Fully Adjustable & Anti-Scratch
The flexible monitor arm can freely extend, retract, tilt and rotate to satisfy your needs. It can also change from landscape to portrait mode. Anti-scratch pads protect your desk from wear and scratch.
Two Ways to Mount
C-clamp on any working surface or grommet installation. Our desk mount comes with all needed parts. It's quite easy to install and use, both Desk clamp and grommet mounting available in the box.