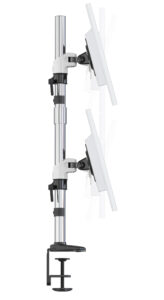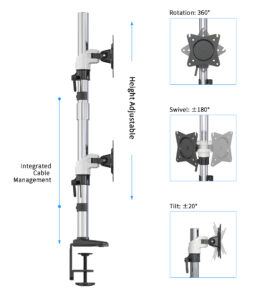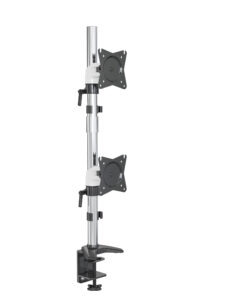 Compatibility
The mount fits monitors 15″ to 32″ in size and 22lbs/8kg in weight with universal VESA mounting holes 75x75mm or 100x100mm
Full-Motion Adjustability
The adjustable arm can tilt from ±20°, swivel 180°, and 360° rotation and height adjustment along the center pole. Monitor can be placed in portrait or landscape positions.
Integrated Cable Management
Keep your power and AV cables clean and organized with detachable cable clips on the center pole.
Health Benefits & Increased Productivity
Problems with low level monitors is the fact that in many cases the monitor is below the required eye level for optimum body posture, what the ShoppingAll monitor stand does is allow the user to adjust the stand based on the height of the user to find the best height for each individual. Having the monitors at the correct height will reduce neck and back pain and have a positive impact on your productivity.
Two Ways to Mount
C-clamp (max width of 2.4"/60mm) on any working surface OR grommet installation (max width of 2.5″/63mm). Our desk mount comes with all necessary parts. It's quite easy to install and use, both desk clamp and grommet mounting available in the box. Please Note: Monitors are not included.