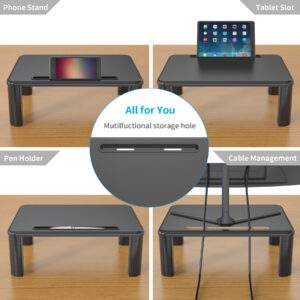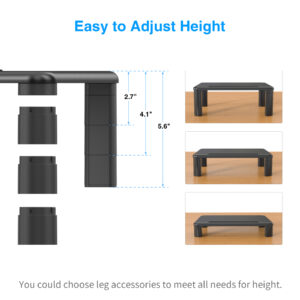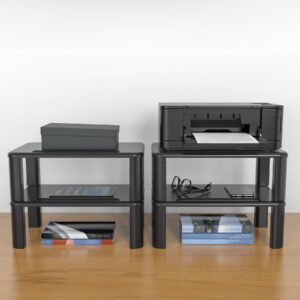 Ergonomic Viewing Height
The height can be adjusted to 2.7, 4.1 and 5.6 inch, rising your screen up to a suitable viewing height, relieving the burdens on your neck and shoulder. Get more work done while improving your health and posture.
Sturdy Design
This monitor stand is made of wooden platform and ABS plastics legs, it can easily hold up to 44 lbs laptop monitors, printers etc. without wobbling and the surface will not sag within its weight capacity
Space Saving
On the platform, there is a multi functional slot that can hold your phone, tablet & pens. Also a space for cable management if you remove the slot. This monitor stand riser allows you to store your office supplies underneath and out of the way so you can save space in your workspace.
Easy Assembly & Adjustment
You just need to add or remove leg segments to install and adjust the height of this stand as you need. Easily assemble your stand within 2 minutes or less so you can begin working right away.
Product Dimension
Platform- 15.7″ * 11″;Adjustable Height: 2.7″, 4.1″, 5.6″; Length Underneath: 12.2″